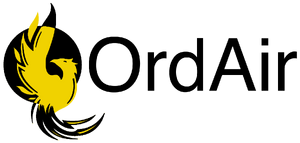 OrdAir - Ordlandic Airlines is an airline in Ordland. Founded in 297 via the merger of three previous companies, OrdAir was based for most of its existence in the city of Newton. Following the Ordlandic War of 317-318 and the independence of the Duality of Bodh-Mar and Ord, the airline relocated its main offices to Brahe, in the modern-day Ordlandic Confederation.
OrdAir was founded as a mixed-ownership enterprise, with one third of its stocks owned by the government of Ordland and the remainder publicly-traded at the Newton Stock Exchange. While the young company had the distinction of being chosen by IVEFA as the "official airline" of the 298 Vexcup, the long economic recession of the 210s, as well as the political turmoil in Ordland, forced OrdAir to suspend several of its international routes, while also mothballing most of its long-range fleet. Following the foundation of the Ordlandic Confederation in July 317, all remaining stocks were bought by the new government, turning OrdAir into a fully state-owned airline.
In May 321, the new administration initiated a massive reorganisation programme, comprising the restoration of several of its long-range routes, the acquisition of new aircraft and the sale of some of its older fleet.
OrdAir is a member of the Open Skies agreement.
Fleet
[
]




12

Lamil L-110

1

Lendosa Aviation LAC-5000
The reorganisation programme initiated on May 321 saw OrdAir selling six of its K-0660 to other airlines in the Medhinou Pact. Meanwhile, the company also acquired twelve new L-110 from Portocapitalian manufacturer Lamil, while receiving one LAC-5000 from North Brolecian carrier Brolair.
Destinations
[
]
Domestic
[
]
Brahe, Copernia (Main hub)
Galilei, Miranda (Secondary hub)
Aranakee, Copernia
Bedauwen, Copernia
Casposia, Miranda
Cerco do Céu, Miranda
Clayshore, Copernia
Copernicus, Copernia
Diana, Copernia
Fort Plato, Copernia
Kaskadoora, Copernia
Mirador, Miranda
Miramar, Miranda
Montecastelo, Miranda
Nestor, Copertina
Penbroke, Copernia
Portoclaro, Miranda
Praiamar, Miranda
Serralta, Miranda
Vistalegre, Miranda
Yanorra, Copernia
International
[
]
Livery and logo
[
]
The current OrdAir livery and logo were adopted in May 321. The new livery features a stylised representation of the Ordlandic Sun and Moon seal in the front part of the fuselage, with the new logo, a stylised representation of a Bird-of-paradise, on the tail. The main colour of the livery was also changed, from black with yellow cheatlines to white with yellow and black trims.
Former liveries
[
]