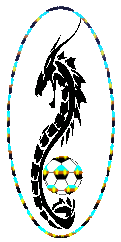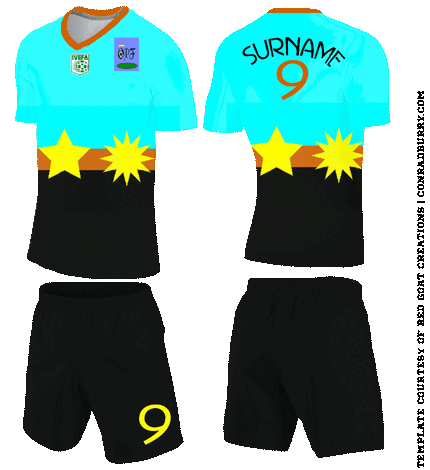 The Draconia Dragons are the national football team of Draconia. Formed on the 19th of March 299 by the newly legislated governing football in Draconia, the OPF (Organisation for the Preservation of Football) as the Draconia Pirates, they were officially recognised by IVEFA on April 6 of the same year.
After 5 years of playing in a mainly black uniform, the OPF overwhelmingly voted to change the nation's official team name and colours to match the highly popular national flag.
On March 18, 304 - the Directorate of Draconia Pirates, also known as the Draconian Pirates were officially announced as the new Draconia Dragons at the 5th anniversary celebration of the establishment of the OPF.
The squad selection process for Vexillium Cups is a well kept secret in the corridors of the OPF, however it is rumoured that it could even be board of past managers, players and even die-hard fans that decide who makes the cut to play for the Draconia Dragons.
Squad for the Vexillium Cup 317

| Position | No. | Name | Home Club | Accolades |
| --- | --- | --- | --- | --- |
| F (Captain) | 28 | Marcel Roux | Estville Musketeers | OPF Golden Boot 316 |
| F | 35 | Arnaud Bauwens | Estville Musketeers | OPF Golden Boot 315 |
| F | 9 | Paulo Valhoste | Borderia Ghouls | OPF Golden Boot 315 Runner Up & OPF Golden Boot 314 |
| F | 5 | Claude Montserrat | Nord Serdnol Frogs | OPF Golden Boot 313 and 307 |
| F | 17 | Gerald Tungst | Vexillna FC | OPF Golden Boot 312 |
| D | 7 | George Kirkenda | Protea Cobras | Team was OPF Premier Division 314 Champions |
| D | 31 | Eric Safrasson | Club Sesom | Team was OPF Premier Division 315 Champions |
| D | 18 | Louis Du Plaissir | Estville Musketeers | Team was OPF Premier Division Champions 316 |
| D | 99 | Karl Rhinebecker | Club Libnea | Team was OPF Premier Division 315 Runners Up |
| D | 12 | Armande de Farriere | Vexillna FC | Team was OPF Premier Division Champions 312, 308 and 305 |
| F | 16 | Philippe Langues | Vexillna FC | Team was OPF Premier Division Champions 312, 308 and 305 |
| F | 19 | Sam Akinsett | Sirap Black Cats | Team was OPF Premier Division 313 Champions |
| F (Vice Captain) | 13 | Derwent Yulsnar | Club Sesom | OPF Golden Boot 316 Runner Up |
| F | 3 | Newton Civizi | Olympus FC | OPF Golden Boot 314 Runner Up |
| F | 15 | Ian Rancize | Nexrush Dinosaurs | OPF Golden Boot 313 Runner Up |
| D | 2 | Henri Benedicte | Porte D'Est Prowlers | Team was OPF Premier Division 314 Runners Up |
| D | 4 | Bedwyr Deering | Serdnol Nobles | Team was OPF Premier Division 313 Runners Up |
| D | 21 | Edward Karinsha | Nordville Penguins | Team was OPF Premier Division Champions 300 and 306 |
| D | 20 | Karl Libovitz | Protea Cobras | Team was OPF Premier Division 314 Champions |
| D | 27 | Alain Dupresse | Centreville Cosmos | Team was OPF Premier Division 312 Runners Up |
| GK | 8 | Glen Supremeyer | Club Sesom | OPF Golden Glove 315 & 314 |
| GK | 27 | Jules Hubert Sante | Estville Musketeers | Joint OPF Golden Glove 316 |
| GK | 35 | Trent Verenki | Taniaqui Jackals | Joint OPF Golden Glove 316 |
| Manager | NA | Loki Eklundsen | Estville Musketeers | Team was OPF Premier Division Champions 316 and 3rd place OPF Premier Division 315. |
Squad for the Vexillium Cup 316

| Position | No. | Name | Home Club | Accolades |
| --- | --- | --- | --- | --- |
| F (Captain) | 35 | Arnaud Bauwens | Estville Musketeers | OPF Golden Boot 315 |
| F | 5 | Claude Montserrat | Nord Serdnol Frogs | OPF Golden Boot 313 and 307 |
| F | 17 | Gerald Tungst | Vexillna FC | OPF Golden Boot 312 |
| F | 1 | Malcolm Frensker | Menzies Kangaroos | OPF Golden Boot 311 |
| D | 7 | George Kirkenda | Protea Cobras | Team was OPF Premier Division 314 Champions |
| D | 31 | Eric Safrasson | Club Sesom | Team was OPF Premier Division 315 Champions |
| D | 10 | Quintus Salimka | Nordville Penguins | Team was OPF Premier Division Champions 300 and 306 |
| D | 99 | Karl Rhinebecker | Club Libnea | Team was OPF Premier Division 315 Runners Up |
| D | 12 | Armande de Farriere | Vexillna FC | Team was OPF Premier Division Champions 312, 308 and 305 |
| F | 16 | Philippe Langues | Vexillna FC | Team was OPF Premier Division Champions 312, 308 and 305 |
| F | 19 | Sam Akinsett | Sirap Black Cats | Team was OPF Premier Division 313 Champions |
| F (Vice Captain) | 9 | Paulo Valhoste | Borderia Ghouls | OPF Golden Boot 315 Runner Up & OPF Golden Boot 314 |
| F | 3 | Newton Civizi | Olympus FC | OPF Golden Boot 314 Runner Up |
| F | 15 | Ian Rancize | Nexrush Dinosaurs | OPF Golden Boot 313 Runner Up |
| D | 2 | Henri Benedicte | Porte D'Est Prowlers | Team was OPF Premier Division 314 Runners Up |
| D | 4 | Bedwyr Deering | Serdnol Nobles | Team was OPF Premier Division 313 Runners Up |
| D | 21 | Edward Karinsha | Nordville Penguins | Team was OPF Premier Division Champions 300 and 306 |
| D | 20 | Karl Libovitz | Protea Cobras | Team was OPF Premier Division 314 Champions |
| D | 27 | Alain Dupresse | Centreville Cosmos | Team was OPF Premier Division 312 Runners Up |
| GK | 8 | Glen Supremeyer | Club Sesom | OPF Golden Glove 315 & 314 |
| GK | 14 | Cenric Snape | Serdnol Nobles | OPF Golden Glove 313 and Runner Up 314 |
| GK | 22 | Rainier de Gontaut | Vexillna FC | OPF Golden Glove 313 Joint Runner Up |
| Manager | NA | Guillame Rochechouart | Vexillna FC | Team was OPF Premier Division Champions 312, 308 and 305 |
Squad for the Vexillium Cup 315

| Position | No. | Name | Home Club | Accolades |
| --- | --- | --- | --- | --- |
| F (Captain) | 9 | Paulo Valhoste | Borderia Ghouls | OPF Golden Boot 314 |
| F | 5 | Claude Montserrat | Nord Serdnol Frogs | OPF Golden Boot 313 and 307 |
| F | 17 | Gerald Tungst | Vexillna FC | OPF Golden Boot 312 |
| F | 1 | Malcolm Frensker | Menzies Kangaroos | OPF Golden Boot 311 |
| F | 23 | Enid Frighten | Natlus FC | OPF Golden Boot 310 |
| D | 7 | George Kirkenda | Protea Cobras | Team was OPF Premier Division 314 Champions |
| D | 21 | Larry Nerenski | Protea Cobras | Team was OPF Premier Division 314 Champions |
| D | 10 | Quintus Salimka | Nordville Penguins | Team was OPF Premier Division Champions 300 and 306 |
| D | 99 | Remy D'Aughstane | Centreville Cosmos | Team was OPF Premier Division 312 Runners Up |
| D | 12 | Armande de Farriere | Vexillna FC | Team was OPF Premier Division Champions 312, 308 and 305 |
| F | 16 | Philippe Langues | Vexillna FC | Team was OPF Premier Division Champions 312, 308 and 305 |
| F | 19 | Sam Akinsett | Sirap Black Cats | Team was OPF Premier Division 313 Champions |
| F (Vice Captain) | 6 | Jacques Raustau | Porte D'Est Prowlers | Team was OPF Premier Division 314 Runners Up |
| F | 3 | Newton Civizi | Olympus FC | OPF Golden Boot 314 Runner Up |
| F | 15 | Ian Rancize | Nexrush Dinosaurs | OPF Golden Boot 313 Runner Up |
| D | 2 | Henri Benedicte | Porte D'Est Prowlers | Team was OPF Premier Division 314 Runners Up |
| D | 4 | Bedwyr Deering | Serdnol Nobles | Team was OPF Premier Division 313 Runners Up |
| D | 21 | Edward Karinsha | Nordville Penguins | Team was OPF Premier Division Champions 300 and 306 |
| D | 20 | Karl Libovitz | Protea Cobras | Team was OPF Premier Division 314 Champions |
| D | 27 | Alain Dupresse | Centreville Cosmos | Team was OPF Premier Division 312 Runners Up |
| GK | 8 | Glen Supremeyer | Club Sesom | OPF Golden Glove 314 |
| GK | 14 | Cenric Snape | Serdnol Nobles | OPF Golden Glove 313 and Runner Up 314 |
| GK | 22 | Rainier de Gontaut | Vexillna FC | OPF Golden Glove 313 Joint Runner Up |
| Manager | NA | Guillame Rochechouart | Vexillna FC | Team was OPF Premier Division Champions 312, 308 and 305 |